List of Most Popular Parties
Here is our list of Parties. Be sure to come by and check out what we have to offer!
Party Theme

Known Characters in Style-some Acces-

RED 

is most Popular in that Style

60's Hippy Specific

Hippy, Bohemian Skirts, Tops, Beatles, Sonny, and Cher,

Tie Die Tshirt

, Bell Bottoms,

PEACE SIGN

Jewelry, Beads,

VESTS

,

WIGS

70's Disco Specific

Sat Night Fever Travoltas White suit, 

Shinny Sequin

 , 

Lame

, Out There Design Shirts and Poly Pants , Ladies Disco Glitter Wear, Austin Powers , 

GOGO Dress's Jumpsuits

, Brady Bunch, Teased and afro'd 

WIGS

80's Specific

Track Suits , Aerobic Workout Wear, MC Hammer ,

T-Shirts

,

RockStars

, Madona, Prince , Devo, Rapper , Punk, —

NEON ButtonHats

, Shirts, Belts , 

Sunglasses 

, Fabric patterns in Tiger, Zebra, Leopard , British and Us Flag, 

FANNY Packs

Anime-cosplay

 

Clothing Parts and Pieces

 for Building your Own Character- Suspenders. Capes, Collars, Shirts ,Blouses, Button Front Pants, Oriental Sarongs and Gi's , Karate, Buttoned and Detailed Long Coats and Short Jackets, Corsets, Jumbo Fluff Slips , Gloves, Hats , Clip-on Hair Ponys, 

Multiple Wigs

Cartoon Fairy Tale

 

Baby Dr Dentons, Dragons, Micky and Minnie, Fairie, Tinkerbell, Alice, Madhatter, Queen Hearts, Dweedle Dee and tweedle Dumb…Ariel

, Jasmine

,

 Aladdin

, 

Beautys Bell Beast

, Cinderella, Cruella, Dr Seuss Cat in the Hat, Grinch,

Thing 1 and 2

, Dr Who, 11th Dr , Snow White, Dwarfs, Flintstones,

 Frozen's Elsa

, Kristoff, Olaf, GhostBuster, Harry Potter, Jack Skellington, Lord Of The Rings, Mario, Luigi and Yoshi, Maleficent, Snow White, Prince, Moana, Ninja Turtles, Power Rangers, 

Red Riding Hood

, Scooby-Doo, Fred, Shaggy, Velma and Daphney, Toy Stories-Wendy, Woody, Buzz, Mr. Potatoe Head, Wizard of Oz- 

Dorothy

, Lion.,Scarecrow, Tinman, Glinda, Witch, Mayor.

Famous People

 

Elvis,Cheech and Chong, Assaissins Creed, Michael Jackson,Edward Scissorhands, 

Marilyn 

, Sherlock

Fifties

 

Poodle Skirt

, 

Pink Lady,

Thunderbird faux leather Jacket, Saddle Shoes, Duck Tail and Bouffant Wig, Bowlin Shirt, Nerd, CarHop, Lucy, Prom Queen.. Fuzzy Dice, Ankle socks, Neck Scarf,

 CATEYE Glasses

Hawaiian

 

Hawaiian Shirts,

 Grass Skirts

, Flower Neck LEIS-headwraps, arm/anklets cuffs-Hibiscus ,Plumeria HairCombs…Beachcomber Straw Hat , Parrot , Shell and CocoNut Jewelry

InTernational-Misc

 

Octoberfest BeerGirl, Frauline, Heidi , German,

 Lederhosen

, Bavarian, Alpine, India Bollywood Sarong, English Nanny, Mary Poppins, Eskimo, Hansel, Gretchen, Kahki Safari Hunter, 

Scottish Kilt

Midevil

 

Armour Knight,Maid Marion, Robin Hood,Crusader, Don Juan, Guinivere, Antoinette, Josephine,Juliet, Musketeer, Maiden, Serving Wench, Peasant, Rennaissance Faire Wear

Mardi Gras

 

Purple Gold And Green Costumes,Pieces

Misc

 

Comical Fat Suit, Doll, 

Morph Second Skinsuits

 all colors and sizes, Hammer, Saw, HotShit and More, Judge, LifeGuard, Old Lady/Man, Padded Body- 

Mermaid

, Muscleman, Opry Star, Playboy Smoking Jacket, Couples Plug and Socket, Racecar Driver, Ringmaster, Lion Tamer, SchoolGirl uniform.

Asian – Oriental

 

Ninja, Karate, Kimono, Geisha, Madame Butterfly, Samuari, Sensei Master, 

Sumo Wrestler in Inflateable

 & Hoop- Nunchuka, Parasol, Fan, Coolie Hat

Pirate

 

Pirate of the Carribean, Black Beard, Buckaneer,Wench, Lady Maiden Swashbuckler, Off Shoulder Blouse, Skirts,Knicker pants, Coats of many and Lengths- Skull Jewelry, Hook Hand, Shoulder Parrot, Bandana, HeadWraps,Sword, Blunderpuss Gun, Boots and Boot Tops,

Religious

 

NUN

, 

Priest

, POPE, Padre, Angel, Jesus, Mary, Wisemen, Joseph, Sheppard, Monk, Rabi, Hats-Pope, Burnoose headpiece, Wings-sheer, Glitter, Feather, small to Jumbo , CROSS jewelry , Rosary

Roman

 

Toga

,Cesar, Marc Antony, Gladiator, Hercules, Centurian,ZEUS, Spartan, Sparticus, Trojan Warrior, 

Cleopatra

, Athena, Aphrodite, Grecian Goddess, Venus, Greek Statue, MEDUSSA, Eqyptian Pharoah , King TUT, Ramses, —body 

ARMOR

, Helmits, Swords, Axes, Spears…Wrap Leg Shoes , Snake and Coin Jewelry, metal and Leather laceup Guantlets, Laurel Leaf head Wreath

Royalty – Kings and Queens

 

King Arthur-Henry GOT, Queen , Prince, Princess, Lrd, Napolean, Royal Maidens… Ermine lined Capes, Crowns- Foam, Metal, Jeweled, Tiaras, ROYAL Over sized Jewely, Staff, Medallions, Sceptors

SteamPunk

 

Plague Dr, Fantasy SaloonGirl, –

Tons and Tons of Clothing Pieces–Skirts

–Ruffle, Pull String, Strip, Geared, Buckled, Blouses and Shirts –linen , velvet, Laced, ribbed, sheer, under and over garmet, Vests , COATS– Long, Short, Buckles, Gears, LaceUp, Velvet, Silk, Strip, Printed,

BELTS

,

GOGGLES

, SunGlasses, Face Masks,CORSETS–Basic, Wired, Boned, Leather, Lace, Size XS to 5X , Pants-Strip , Knit, Linen, Buttonfront Fly, Lace Trim, CHOKERS , GEAR Jewlery

Spanish Mexican

 

Matador , Zoro, PONCHO, Bandito, GYPSY, Senorita, Day of The Dead, Sombrero, Marachas, Bandolier Bullet Belt

Space and SuperHero

 

Antman,Batman,Robin, Joker, 

Harley Quin

, Captain America, Captain Marvel, Deadpool, Flash, Halo, Heman, HULK, Irin Man, Mr and Mrs Incredible, SuperMan,SuperGirl, SpiderMan, STAR TREK , She-ra, 

STAR WARS

– Chewy, Vader, R2D2, Jedi, Leia, Kylo, STORMTROOPER…THOR, Wolverine, Wonderwoman,ZENA, 

Astronaut

, ALIEN, 

THEM

 Astronaut Helmits , Blowups

Typical Halloween

 

Dracula, Vampire, Horror Clown-Pennywise, JASON Coveralls, VooDoo/Killer Doll, Skeleton, Elvira, Evil Queen, Bride Frankenstien and Fran k , GHOST, Dead Bride&Groom, Freddie Krueger, Edward Scissorhands, MUMMY, Grim Reaper, SCREAM, WITCH, Hooded ROBES…Capes- Every Length ,Color, Fabric , Style available…..Brooms, Fangs, Chainsaw, Facial Prosthetics, Butcher Knife, Meat Cleaver, Machete

Sports

 

Sport Uniforms ,BOXER, Cheerleader,UMPIRE, WWF Wrestler, PomPoms

Twenties

 

Gangster

, 

Flapper

, Old Time Bathing Suit, Gun Moll, Bonnie&Clyde, Zoot Suit, Roaring 20s Strip Jacket, Straw Skimmer Hat , Keystone COP, Helmit Billy Club, Fedora, Cigarette Holder, 72″ Beads, Rhinestone HeadPiece, Fishnet Stockings, Gloves, Tommy Gun

Uniforms – First Responder

 

Chef, aprons, hat, Pilot, FIREMAN, Axe , helmit, Girl Scout, 

POLICE

, badges, hats,handcuffs, 

SWAT

 and VEST, Prison Convict- Orange&Strip, Shackles, Ball&Chain, Ship Captain- hat , pipe, Stewardess, FBI Agent, SHIRTS, 

GUNS

,METALS

Viking

 

Fur Pieces, Horned Helmits, Weapons

Western

 

Cowboy/girl -Chaps, Vests, Skirts, Shirts, Blouses,Duster Coat, Gambler, HillBilly , Daniel Boone, 100's of Hats, Bandanas, Bolos, Badges, Gun/ Holsters, Historical & Colonial Characters –Perfect For 

School Book Reports

 –Pilgrims, George & Martha Washington, Ben Franklin, Abe Lincoln, Mark Twain, Teddy Roosevelt, Einstein, Columbus,Thomas J… Lizzie Borden , Saloon CanCan Girl, Southern Bell Hoop Gown, Rhett Butler ] Tail Coat, Sheriff, Civil War Uniforms , RedCoat…

Santas Workshop

 

Reindeer, Snowman, 

SANTA SUITS

–RENT —or Purchase-from Bar Crawl throw aways to Velvet Lined- also Boots/ Boot Tops, Belts/Buckles, Gloves up to XXL, Wire Glasses, Hand Bells,Toy Bags & Variety of BEARD/WIG sets Including High Quality… 

Mrs SANTA

, ELVES, Reindeer, Snowman- Antlers, Scarfs,Wigs,Hats,

Ugly Sweaters

,

 VESTS

, Curly toe Shoes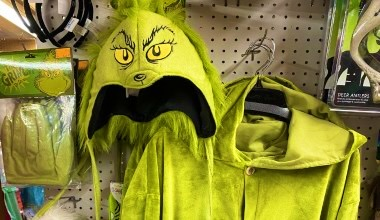 Visit Our Accessories
Page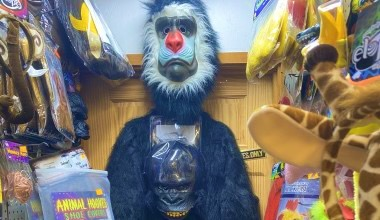 Visit Our Products and Services Page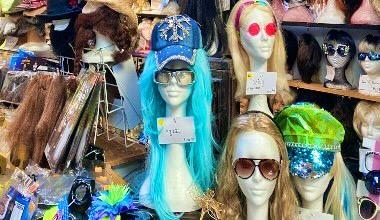 I can always count on these guys to have everything I want.
And let's face it, what others would wear on Halloween, I'd wear to work or just when I'm out and about. Of course, when fall hits and Halloween is right around the corner, this is THE place to go. Depending on where you live, there is another location in Danvers that is equally cool.
Ellen W., Wakefield MA